"Battershell Cabinets custom-made our cabinets to fit perfectly in our 2 bathrooms when we did a remodel. John was amazing to work with – made suggestions and was helpful from beginning to end. Very high quality cabinets – we love the hickory! And we get so many compliments!"
-Bard Jereamy
"Battershell Cabinets custom built this island and sink base for me! Abbey stained it the perfect color to make it stand out in my kitchen. John even set up everything for me to get these quartz countertops put in! 10/10 recommend Battershell Cabinets for your next project!"
-Brandy Rosebrock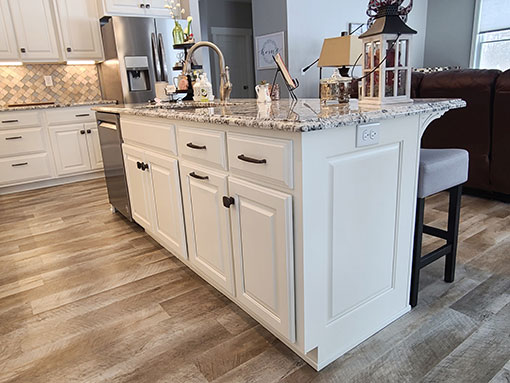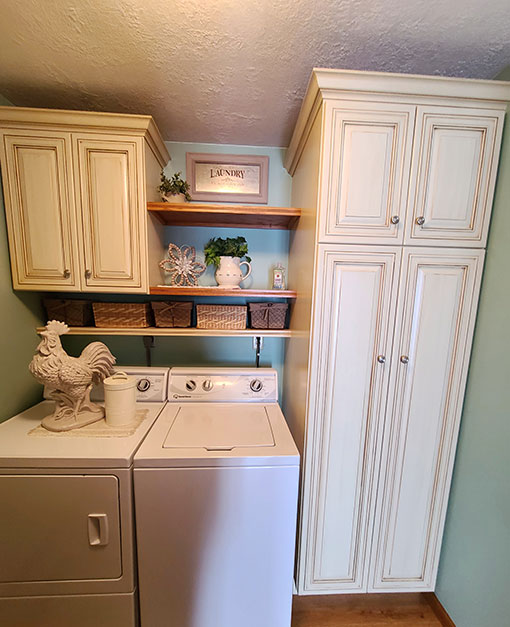 "After a kitchen fire which damaged our cabinets above and beside our stove, John Battershell built new cabinets which matched our other cabinets perfectly. I was in awe of his craftmanship and color match. I highly recommend Battershell Cabinets. I am very pleased!!!"
-Marcella Stoll
"We love our new kitchen cabinets. John spent a lot of time with us and answered all of our questions. He made suggestions that we never thought of. We definitely know who to call when we have other project in the future. Thank you Battershell Cabinets!"
-Jim & Carolyn Whitaker
"Easy to work with, excellent craftsmanship, and attention to detail! I particularly love the hickory cabinets!"
-Jeremy Krill
"Our custom home was built in 2002 and nearly every room in our home has been touched by Battershell Cabinetry. Battershell Cabinetry can be seen in the full library with custom desk and custom file cabinets, spacious, beautiful kitchen cabinets, large pantry with organizers and most recently the full entertainment surround and fireplace surround with mantel. Their work is not only elegant but also functional. I trust in Battershell Cabinetry and wouldn't use anyone else for our cabinet and custom woodworking needs."
– Dr. Todd & Susan Willey
"When my husband and I decided to build our dream home our contractor recommended we talk with John Battershell with Battershell Cabinets. John took the time to talk with us about wood choices, style and design choices, counter tops, right down to drawer and cabinet knobs. We have been very pleased with all of our cabinet choices and appreciated all of Johns time and cabinet construction. John even worked with me on building a custom dresser/island for our master walk in closet, I had a simple drawing on paper of what I wanted and John created just what I was looking for he also crafted raised panels for the surround for our garden tub to match the master bath cabinets which look great. If you are looking for custom cabinets I would recommend Battershell Cabinets of Hicksville".
– Cindra Keeler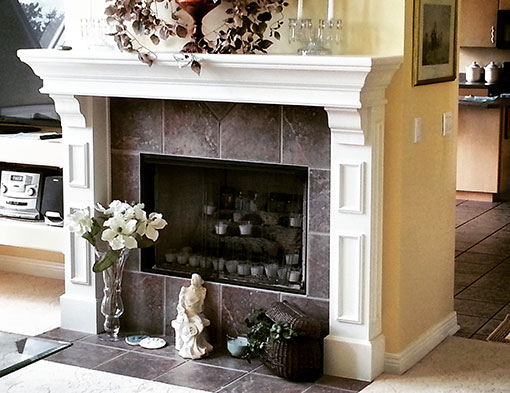 "Our experiences with Battershell Cabinetry have been phenomenal! And I am not just referring to their excellent craftsmanship. John was able to create and design a mantle/bookcase for my office just from my idea of what I wanted. It was almost like he could read my mind! Battershell Cabinetry is THE answer to all of your needs: top quality products in your price range, artisitic design, expert installation, and personalized service. You can trust Battershell Cabinetry to take care of every detail along the way! "
– Julie Barth
We contacted John early in the planning process for building our dream home. We had done the rounds at the 'big box' stores sitting and talking with some folks that we got the impression had never built anything. We then stopped in to see John at his shop in Hicksville. John was able to show us dozens of examples of his actual work as well has hundreds of samples of the materials that he would use in actually building our cabinets. John spent as much time as we wanted going over all the options as well as providing expert advice on all aspects of our cabinets and counter tops. What was most impressive was his desire to make sure that the design and product matched with what we were trying to accomplish functionally but also that we were spending our cabinet budget wisely.
On the day that the cabinets and countertops were to be installed came it was John Battershell, Master Woodworker and owner of the company , who showed up to supervise and actually install the finished product!
"We love the cabinets and countertops provided by John and get tons of compliments. The best part is that he provided all our custom cabinets, even the bathrooms, laundry room and bar area; all high quality Hickory wood and within the same budget that the we were going to spend at the big box stores. You cannot go wrong with John Battershell's product and installation."
– Greg & Lisa Slattery
"I have been so impressed by the work that we have had done by Battershell Cabinets. We have had several projects completed in our home, including closets, cabinets, built-ins, etc. No matter how big or small the job, great care went into each and every detail. Each time my expectations have been exceeded in both quality and value. John took the time to make sure the end result was exactly what we wanted. This is a company that I will use time and time again as the need arises. "
– Jill Pittman
"I have been working with Battershell Cabinetry for over 7 years. John and his staff has built and installed all the kitchen and bathroom cabinets during out new construction of our home. He also built all of the kitchen and bathroom cabinets in my sons home, the counter tops at my parents home and countertops at my business during the 3 remodels. Their quality is top of the line, they are honest and timely. I would recommend Battershell Cabinetry to be a part of your next new construction or remodel project."
– Tony Nighswander
We made a list of the things we loved the best about John Battershell Cabinets!
"Beautiful cabinets but even more important-the quality is fantastic. The finish is beautiful even after 10 years- they look brand new.
We gave John our kitchen dimensions over the phone from our measurements. We visited his shop a couple times to pick out style and finish but John never visited our home prior to the delivery of our finished cabinets and they fit absolutely perfectly! Amazing!
We felt John was very reliable and honest. When he gave us a price quote- it was exactly that. And his price beat everyone else we checked with.
We have had so many compliments on our beautiful kitchen! We had our home on the market at one time and everyone that looked at it commented on the kitchen.
We love our cabinets as if they were brand new!"
– Julian and Billie Brock
"We have used Battershell Cabinetry on numerous occasions, including fireplace framing, built-in cabinets and custom in-laid paneling. The work has always been of the highest quality. The Battershell team is professional, courteous and very reliable. We wouldn't have anyone else work on our home."
– Michael and Deborah Hunter
"We had received several quotes on our kitchen before we decided to call Battershell Cabinetry. We thought that their prices would be much more than we were willing to spend. To our surprise they beat out the other quotes not only by price, but most importantly quality. We decided not to do a whole kitchen renovation, but to complete our kitchen the way we wanted by adding more cabinets and new countertops. Battershell Cabinetry was able to match the design of our existing cabinets to make our kitchen more complete. They were very courteous and kept their work area clean. Battershell Cabinetry, in my opinion, take pride in their workmanship. We were very satisfied with the overall renovation of our kitchen and we will call Battershell Cabinetry first next time."
– Amanda McAlexander
"When the new Hicksville Pre-K through 12 school building was nearing completion in 2008, we knew that we wanted to add some finishing touches to complete the look of the school. The goal of our design committee from the beginning was to create a warm, welcoming, homey environment for our students. To accomplish this look, we called on John Battershell and Battershell Cabinetry.
Throughout the building, John and his team added oak detailing that enrich the look of our hallways and public areas, such as our library/media center and our commons area. The main hallway of our school has a vintage look that harkens back to the days of brick-paved streets lined with shops. The oak finishes provided by Battershell Cabinetry define the different "shops" along the "Main Street" and take the look of this area to an entirely new level. Outside our elementary gym is a large, beautiful wooden design of our school nickname, the "Aces," along with the hearts, spades, clubs, and diamonds, richly painted in the school colors. All of it was provided and installed by Battershell Cabinetry. The building's trophy and display cases were finished by Battershell Cabinetry.
The new, 148,000 square foot Hicksville School has become quite well known throughout the state of Ohio for its functional, yet unique look. This is due in no small part to the work of John Battershell and his team from Battershell Cabinetry. There were many different challenges that we presented to Battershell Cabinetry as far as completing the look for our school, and they came through in spectacular fashion in each and every task with which they were presented. John and his team did quality, detailed work throughout the school building that will, for decades to come, enrich the experiences of our students and staff, our community, and all visitors to the school.
Throughout the construction of the building, I worked with a variety of contractors, and many of them were very good at what they did. But none was more reliable, more responsive, or provided more care for their craft than John Battershell and the team from Battershell Cabinetry."
– Kevin Miller